What is the expected recovery following joint replacement?
Individual recovery very much depends on your preoperative level of activity and mobility as well as your overall health. The first two weeks following joint replacement are the most difficult, slowly graduating from a walker to a cane as your body heals and recovers from surgery. We will see you back in the clinic at two weeks to remove your bandage and address any concerns or questions you may have. The following month will see drastic improvements in mobility, strength, confidence, and pain control, with patients either returning or exceeding the majority of their baseline activities. Your joint replacement will continue to improve through 3-4 months after surgery, with a noticeable improvement each day. In fact, more recent data tells us that your joint replacement continues to improve even after 1-2 years following your surgery.
How long does a joint replacement last?
The technology utilized in modern implants today far exceeds what was available when joint replacement surgery was first introduced. In hips, no cement is typically used, allowing for the bone to grow directly into the implant. This allows for the prosthesis to become a part of your skeleton as you heal in the first 4-12 weeks following surgery. Until approximately 20 years ago, the plastic component (polyethylene) would commonly wear out early on, causing degradation of the surrounding bone and the possibility of loosening of the implants. Now, this material has been engineered so that it can withstand decades of use. It is difficult to answer exactly how long the material can last as the most recent engineered products have not been around long enough to see them fail from simply overuse. What we know now is that it is more likely for you to require a repeat surgery for a reason other than simply the plastic wore out, such as a fracture, infection, or loosening of the implant.
What are the implants made of?
In hips, both the acetabular component (cup) and the femoral stem are made of some form of titanium, which is specifically engineered to allow your native bone to grow into the implant. Inside the cup, a highly engineered plastic called "highly cross-linked polyethylene" is placed followed by either a ceramic or metal ball which fits on the end of the femoral stem. This combination is now considered the gold standard in hip replacement with the longest experience and most published data allowing for a variety of options to be tailored to the individual needs of each patient, including multiple head sizes and face changing, lipped, or lateralized liners.
In knees, the same engineered plastic is utilized between the femoral component and the tibial component. Both are made of a metal alloy called "Cobalt-Chromium" which are then cemented onto the bone utilizing a specific bone cement called "Polymethylmethacrylate". This substance acts like grout as it is applied in a soft form, squeezing into the intricacies of the bone before it hardens into place.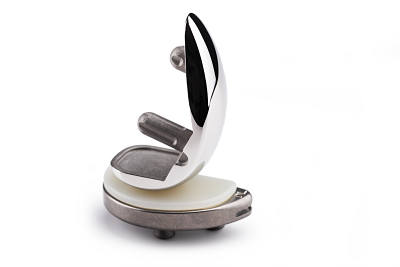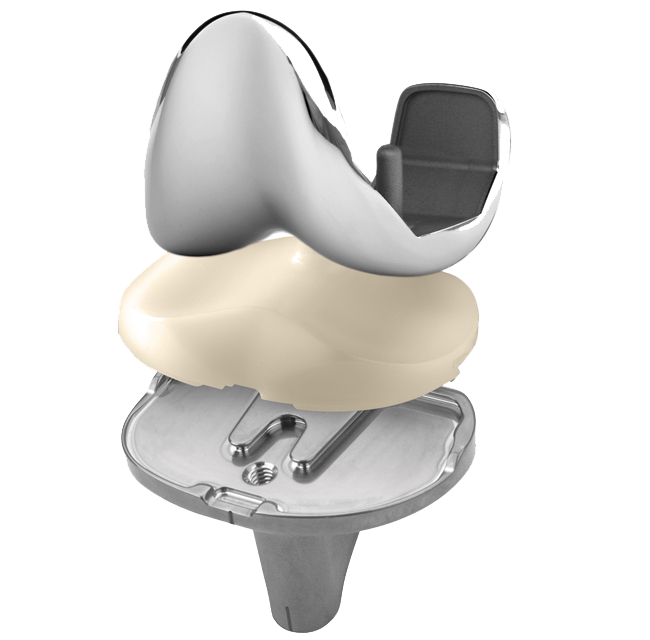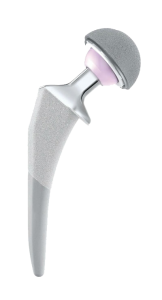 What is metal on metal?
In hip replacement, the term "metal on metal" refers to a metal ball which moves directly within a metal liner rather than utilizing the plastic in between. This technique was popular in the early 2000's with hundreds of thousands of patients receiving this construct. Unfortunately, we have learned that this type of hip replacement sheds small metal shavings into the surrounding tissues which can enter the blood stream, destroy the muscle and tissues around the hip, and can lead to further complications including dislocation, weakness, and pain. Complications following metal on metal hip replacement have led to many patients requiring a revision surgery. Metal on metal total hip replacement is therefore no longer performed.
What approach do you perform for total hip replacement?
I prefer the anterior approach for my primary and most of my revision hip replacements. This approach is tissue and muscle sparing with the advantage of less risk for hip dislocation and therefore there are no true hip precautions or motion restrictions. It also allows for easier use of x-ray during the procedure to better predict leg lengths and component position while still in surgery. Although I will occasionally perform the more traditional posterior approach for more complex or revision surgery, this would be discussed at length during the patient visit.
How long will I stay in the hospital? Can I be discharged the same day as the procedure?
The vast majority of my patients are discharged either the same day or the day after their surgery. If you are interested in going home the same day, please let either myself or one of my staff members know that is your intention. All patients undergoing a partial knee replacement will be discharged directly from the PACU (post-anesthesia care unit) a few hours after the surgery. The majority of my anterior total hip replacement patients are candidates for same day discharge and some of my total knee replacement patients. I have few contraindications for same day discharge, including significant cardiac disease or multiple medical comorbidities which we will discuss at your office visit.
What type of anesthesia do you use?
My usual protocol includes spinal anesthesia to numb the patient from the waist down. This allows for a much safer procedure from a cardiac and pulmonary standpoint with many of the risks and complications of anesthesia minimized. Instead of general anesthesia, you are placed in a twilight sleep which is easily reversible allowing you to wake from your surgery more quickly and without the fogginess of general anesthesia. In addition to a spinal, both total and partial knee replacement patients will also receive a nerve block along the femoral nerve in the thigh, called an "adductor canal block", which allows for additional pain relief following the surgery but without resulting in muscle weakness or paralysis. This combination allows for the patient to participate with physical therapy within only a couple hours of the surgery with less discomfort.
When can I shower? When can I go swimming or take a bath?
Your incision will be covered by a sealed bandage. This bandage allows you to shower immediately, letting the water run over the dressing. We will remove this dressing together in my office at 10-14 days following your surgery. Due to risk of wound complications and infection, please do not submerge your dressing or incision under water in the pool, hot tub, or bath until 6 weeks after your surgery.
When can I drive?
Most patients return to driving 3-4 weeks after surgery, with left sided surgery returning more quickly than right-sided surgery when they no longer require the use of a walker or any narcotic medicines during the day.
Will I set off metal detectors in the airport?
Most likely, yes. It depends on the sensitivity of the detectors in the specific airport. Joint replacement cards are no longer provided as they are easily replicated illegally.
Do I need to take antibiotics after my joint replacement when I go to the dentist?
Poor dental hygiene is a well-known risk factor for infection following joint replacement as there are many bacteria in the mouth that can be spread into the bloodstream with simple acts such as dental cleaning and even flossing. Although the main governing organizations for both orthopaedic surgeons (AAOS) and dentists (ADA) have now released a statement that routine dental cleaning does not require antibiotic prophylaxis following joint replacement, there are a few general guidelines and exceptions to this rule:
All patients should try to complete any expected dental work prior to their joint replacement, especially if there are any loose or infected teeth.
If possible, try to avoid any dental work within the first 3 months following your joint replacement.
Within the first year after surgery, patients should use antibiotic prophylaxis prescribed by your dentist for all dental work, including routine cleaning.
Following 1 year after your joint replacement, any major dental work for the rest of your life should use antibiotic prophylaxis but for routine cleanings it is no longer mandatory unless recommended by your dentist.
Do you use staples?
No, all incisions are closed using absorbable sutures under the skin creating a cosmetic thin scar. There are no staples or sutures to remove.
How long do I need to wear the compression stockings?
I prefer all patients wear compression stockings on both legs for at least the first two weeks to decrease your risk of developing a blood clot. They may be removed at nighttime. All total and partial knee replacements will continue to wear the stockings on the operative leg until 6 weeks after surgery but most of my total hip replacement patients may discontinue the stockings at 2 weeks. We recommend all patients obtain custom stockings so they fit better and are more comfortable rather than the generic stockings supplied by the hospital.
Do I need to change the bandage?
The bandage is sealed and remains in place until your first postop appointment at 10-14 days following your surgery. We will remove the dressing together at that time.
When can I go back to work?
Depending on your type of work, most patients are able to return to a desk job only a few weeks following their surgery. If your job requires a lot of travel, walking, or intense lifting, you can expect a later return to work anywhere from 1-3 months after surgery.
What type of pain medicine will I be prescribed after surgery?
After surgery, a combination of anti-inflammatory medication, Tylenol, and low dose pain medicine such as tramadol or norco is typically all that is required.
Do I need to sleep with a pillow between my legs? When can I sleep on my side?
One of the benefits of the anterior approach is the lack of restrictions following hip replacement. No pillow is required between the legs. Although it is best to not sleep directly on the incision until it is healed, you may sleep in whatever position is most comfortable.
When can I play golf?
Although you may return to the driving range to gently practice your swing around 4-6 weeks, it is typically advised to wait closer to 3 months before returning to a full round of golf.
When can I fly?
There are no absolute restrictions on when you can fly but most patients prefer to wait at least 2 weeks as it may be quite uncomfortable on the airplane during the acute recovery following joint replacement. Remember, your risk of developing a blood clot is higher after surgery with the risk further elevated with long travel. If you choose to fly soon after your joint replacement, remember to take your aspirin, wear your compression stockings on both legs, and get out of your seat frequently. I typically recommend patients delay significant travel plans until after their 6 week visit.
Do I need to go to a nursing home after surgery?
Due to the advent of preoperative rehabilitation and strengthening, modern surgical techniques, early mobilization and multimodal pain control, nursing homes have a very limited role in the recovery after joint replacement. Instead, our research has demonstrated improved outcomes with recovery at home, with less incidence of infection and confusion, and earlier return to everyday activities. Typically, this is accomplished with the help of friends and family who are able to live with the patient for the first 5-10 days following surgery.
Will I be prescribed physical therapy?
Although I often prescribe pre-operative physical therapy or a home exercise program to improve strength before surgery, most of my total hip replacement patients do not require formal therapy after surgery. Instead, they follow exercise videos at home provided in the form of a mobile app on your phone or tablet. In contrast, I typically will continue formal physical therapy for my knee replacement patients on an outpatient basis to ensure they maximize their range of motion early on. Although it is typically not necessary, certain patients will have the option of the therapist coming to their home for a few sessions.
Whether you have outpatient, home health, or no therapy at all, the recommendation is that you continue with gentle motion exercises that you learn in the hospital which allow for the leg muscles to move. These gentle exercises allow for increased circulation, prevention of blood clots, decreased swelling, and improved pain control. You cannot strengthen something that is not yet healed, so conventional strengthening exercises are postponed for about a month.
What kind of joint replacement will I get? What company makes the prosthesis?
I was fortunate to have been trained utilizing many different companies with a variety of implants. Therefore, I have the ability to use the specific implant I think is best for the patient's needs and anatomy. Depuy-Synthes, Zimmer-Biomet, Smith & Nephew, and Stryker make up the majority of the companies I use.
Do you perform minimally invasive surgery? How big will my incision be?
Yes. Minimally invasive surgical techniques are utilized in both my hip and knee replacements. Generally, the incision will be as small as possible, but large enough to do the procedure right. This generally depends on the size of the thigh but ranges from 3-6 inches. The important thing I like to convey to patients is that I will not compromise the outcome of the procedure just for a small incision as there are plenty of studies showing a higher risk of wound complications and component malposition with too small of an incision.
How long does the surgery take?
The surgery itself takes a little over an hour to do although more time is spent in the operating room preparing you for surgery such as performing the anesthesia and positioning you on the operating table.
What is robotic surgery? Is the robot actually doing the surgery?
Robotic surgery refers to the use of real-time feedback from computer navigation to assist with total or partial knee replacement. The technology allows the surgeon to create a 3-dimensional model of the patient's knee on the computer screen and perform the surgery on the computer, analyzing the component positioning and balance, all before making a single cut of bone. This technology is truly revolutionary and gives the surgeon an incredible advantage to give the patient the best possible outcome. All the cuts are still performed by the surgeon but with the assistance and feedback from the computer "robot".
What are the other pain management techniques utilized? What is multimodal pain management?
Multimodal pain management is a term that refers to attacking the pain from surgery at every level, and is done without relying on opioid or narcotic pain medication. Our pain management formula is based on the most state of the art research and techniques familiar with outpatient total joint surgery. It begins before the surgery even starts with a cocktail of preoperative medications aimed to trick the body not to initiate a cascade of inflammatory mediators that usually cause pain. During the surgery, the utilization of minimally invasive techniques combined with a local pain cocktail injection at the surgical site and spinal anesthesia ensure you wake from your procedure in the least amount of discomfort possible.
Where do you operate?
I perform the majority of my procedures at HonorHealth Shea Hospital, although there is an increasing role of outpatient surgery centers in my non-medicare population.
Do you offer simultaneous bilateral joint replacement?
My preference is to perform one side at a time due to the large amount of literature suggesting higher rates of complications including infection, bleeding, cardiac and pulmonary distress, and incidence of blood clots following simultaneous bilateral surgery. Depending on your recovery from the first surgery as well as your other medical risk factors, I would consider performing the contralateral joint replacement 6 weeks later.
When can I have sex?
Although there are no true restrictions, most patients wait until their incision has started to heal, typically around 3-4 weeks.
When can I bend over to pick something up off the floor after my hip replacement?
Again, due to the anterior approach I do not impose any true restrictions on motion. You are free to pick up small items off the floor immediately if it is comfortable to do so.
Will I need a walker or cane?
All patients are discharged from the hospital with a walker. Most patients then feel comfortable dropping the walker for a cane anywhere from 5-14 days after surgery. It is important to take advantage of these ambulatory aides as the risk of falling is greatest within the first two weeks of surgery due to general weakness and the effects of the surgery and anesthesia.
When can I walk? Can I put all my weight on my leg right away?
Walking is the best! Most patients feel most comfortable using the walker during the first week. With the anterior approach, muscles are better able to withstand the force of ground pressure, allowing patients to bear full weight and progress to using a cane by around the second week after surgery. As long as there is no pain with weight bearing, this is fine. If there is no pain you may progress to using a cane. Until you are able to walk without a limp, you should stay on the support of a cane; it does no good to walk with a significant limp, which can hurt your back or other joints. You can expect to be walking within hours of your surgery with the help of a walker and the physical therapists and nurses in the hospital or surgery center. My usual protocol does not require any restrictions with weight bearing.
Can I kneel on my knee replacement?
Most patients choose not to kneel directly on their new knee as they find putting pressure directly on the healed incision is no longer comfortable. If kneeling is important for outside gardening or religious worship, it is recommended to purchase knee pads with slow improvement in comfort over time.
Do I need to take a blood thinner like Coumadin?
Your individual risk factors for the development of blood clots, including any history of previous blood clots will be discussed in the office. Most patients are at standard risk and will need to take enteric coated Aspirin for 4 weeks following surgery. If you are at elevated risk, one of the newer anticoagulation agents such as Xarelto or Eliquis is typically used rather than Coumadin, eliminating the need for repeat blood tests.
What are the most common complications of joint replacement?
Hip and knee replacement surgery is one of the most successful surgeries performed in all of orthopaedic surgery. As in every surgery however, there are always possible risks and complications that can occur. Common to every surgery is the risk of anesthesia-related complications such as heart, kidney, and breathing problems which are higher in patients of older age and increased number of medical comorbidities. Therefore, we require a clearance letter from your primary care doctor prior to proceeding with your joint replacement.
The risk of infection rises with the number of medical comorbidities as well as the presence of diabetes, smoking, and obesity. We do have a cutoff for weight, where we are unable to perform your joint replacement if you have a BMI (Body Mass Index) greater than 40. All diabetics should be aware of their Hemoglobin A1C value, which should be less than 7.0 to proceed with surgery. Lastly, there is a risk of developing a blood clot in the leg or the lungs, known as a pulmonary embolism, which can be fatal. My typical protocol for protection against blood clots is aspirin daily. If you are at elevated risk or have a history of blood clots, you will be placed on a more potent blood thinner following surgery.
One of the risks specific to the anterior approach to the hip is irritation of the nerve supplying the outer part of the thigh near your knee. This nerve is called the "lateral femoral cutaneous nerve" and travels close to the incision site. It is rarely cut but can be disturbed by the surgery, causing a numbness or burning sensation along the distal thigh which can take up to 6 months to resolve or improve.
Most patients experience numbness on the outside of the knee following both partial and total knee replacement which can last forever but usually will slowly improve over 6 months.
Less common risks include fracture of the bone, stiffness, persistent pain, dislocation, nerve irritation, and the need for blood transfusion.
Can I sit in a normal chair?
One of the major advantages of the anterior hip is the lack of restrictions regarding the sitting position, so getting in a car or normal chair should be pretty easy after a few days. To get in a car, sit on the seat first and then swing in your legs, as you pivot on your bottom. Even though there are less flexion (bending) restrictions, please avoid low couches or soft chairs, as you may have trouble getting out.