MATTHEW W. RUSSO, MD, FAAOS
Total Joint Orthopedic Specialist
Dr. Matthew W. Russo is a board certified, fellowship-trained orthopedic specialist in both primary and complex revision total joint replacement surgery. He performs the anterior approach to the hip in addition to total and partial knee replacement utilizing cutting-edge technology. His research in multimodal pain management strategies combined with minimally invasive techniques allows many of his patients to be discharged home safely on the same day as their procedure. He feels grateful to have the opportunity to serve the Phoenix community as a third-generation orthopedic surgeon, joining his father in practice in 2017 and has now performed over 3000 joint replacement surgeries. He is honored to continue the legacy of treating the orthopedic needs of local patients, just as his father and grandfather have done for almost 35 years.
Dr. Russo believes it is essential to listen to patients and to treat them just as he would his own family members. He is one of the only surgeons to utilize a portable stationary bicycle provided to the patient's home as well as access to videos of physical therapy exercises and tips unique to their recovery directly from his website.
Dr. Russo was specifically drawn to hip and knee replacements because he finds it rewarding to play a role in the transformation of patients whose lives have been limited by their condition and to help return them to the everyday activities and lifestyle they previously enjoyed. He stays abreast of current research and trends as an active member of the American Academy of Orthopaedic Surgeons, the American Association of Hip and Knee Surgeons, and the Anterior Hip Foundation. He has also been awarded Phoenix Magazine Top Doc multiple years in a row.
Dr. Russo received his undergraduate education from the University of Notre Dame prior to his completion of medical school at the University of Arizona College of Medicine in Tucson. There, he became a member of a select group of medical students known as the Gold Humanism Honor Society representing "humanistic attitudes in medicine."  He went on to complete his residency at Georgetown University Hospital in Washington, D.C., where he received multiple awards for resident teaching in medical education.  Dr. Russo then completed a fellowship in Adult Reconstruction at the Anderson Orthopaedic Clinic in Alexandria, Virginia.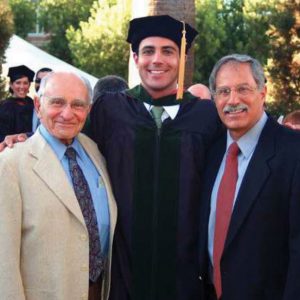 Who is your family?
My wife, Caitlin Russo, is a lawyer specializing in anti-trust law and continues to work remotely for the same law firm based in Washington DC. We have three children: Liam, Ciara, and Sienna.
Why did you choose to become an Orthopedic Specialist?
I grew up with incredible role models in my Dad and my Grandfather , both of whom were Orthopedic Surgeons. My Dad continues to practice here in Scottsdale and I have now joined him in practice, sitting in the same office my Grandfather once held.
What is your background?
I attended Brophy College Prep HS here in Phoenix before meeting my wife at the University of Notre Dame in South Bend, IN. From there, I came back to Arizona to attend medical school at the University of Arizona College of Medicine in Tucson. I was fortunate to match at Georgetown University Hospital for an Orthopaedic Surgery Residency.  After five years of residency, I completed a fellowship in Adult Joint Reconstruction, specializing in hip and knee replacement surgery close by at the Anderson Orthopaedic Clinic in Alexandria, VA.
What are you passionate about?
I love spending time with my family and being a part of my children's lives. I am an avid cyclist having completed in multiple century rides over the years. I also enjoy taking photographs, playing the piano and many other outdoor activities.
What sets your practice apart from others?
In the current setting of impersonal and large hospital groups and physician practices where you are never quite sure who you are getting, I am proud to continue a tradition and feel of a more small-town community practice in joining my Dad who has been serving this community's orthopedic needs for almost 35 years.
Accomplishments?
String of Pearls Resident Teaching Award (April 2013, 2015, 2016): Chosen by Georgetown University Medical Students for "demonstrating an exceptional commitment to teaching students"; First resident to receive the award three times; Hugh H. Hussey Award (May 2016): Awarded to one resident in all surgical sub specialties for demonstrating excellence in medical student teaching ; Gold Humanism Honor Society (GHHS)-University of Arizona Chapter (May 2010): Select medical students who represent "Humanistic attitudes in medicine"; Junior Class Vice-President, University of Notre Dame (April 2005 to 2006); Mrs. William Henry Brophy Award – Brophy College Prep (May 2003) – Highest award presented to one student, named after the founder.